Xilin Cast Iron Teapot Set Blue-Black Teapot & Cups 0.8L
Xilin Cast Iron Teapot Set
Blue-Black Teapot & Cups 0.8L

Beautiful cast iron set which includes a teapot, trivet and two cups
Cast Iron
Enamelled inside
Removable Stainless Steel Filter in the teapot
Home Delivery
UK delivery from FREE
Loyalty Scheme
Earn up to 295 Tea Leaf points with this product.
Item: XilinBB08set

6 reviews
Xilin is a classic Japanese style. This set includes a 0.8L teapot with matching trivet and two cups.
Finished in blue/black, all products in the Xilin range are made from Japanese cast iron and are enamelled on the inside
A stainless steel filter is included
The capacity of the 0.8L is around 4-5 cups
Note : Please be aware that these products are heavy and that sometimes the outer cartons can get a little damaged in transit. The products themselves will be perfect inside.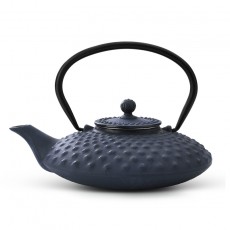 +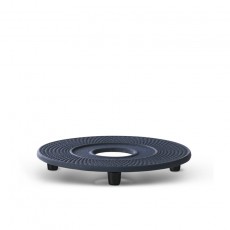 +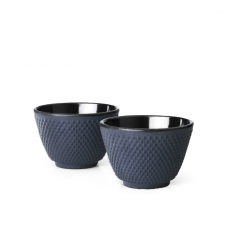 "You can drink your tea immediately because cups disperse heat well."

"Excellent quality! Well worth the money if you're looking for a high quality tea pot. Being iron you can tell the temperature of the tea by the temperature of the cup so know when it's just right to drink. Makes a great ornament when not using as well. "

Cup Of Tea response...
"Thank you for your lovely review, we are glad you are enjoying using our cast iron teapot - we think they look great as well!"
GarringtonVincent
said...
"Purchased as a gift so opted for gift wrap. Arrived on time & was very well received. Good quality & great service, thanks. Would use again."

jackiecrookstonaolcom
said...
"Excellent. Good quality. Makes a lovely cup of tea"

"Love our teapot. Very functional but extremely decorative too. It's quite deceptive how much it holds, a very generous amount. It's so good having the trivet and teacups too. Very very happy with my purchase. "

Cup Of Tea response...
"Dear Anne, thank you for your amazing feedback. Merry Christmas to you and hope you have time to enjoy many cups of tea."
"Love this teapot set. Wonderful value arrived promptly with tea sample included. A lovely item I shall enjoy using it. "

Cup Of Tea response...
"Hi Anne, thank you for such lovely feedback and we are thrilled that you love your purchase."
People who bought this also bought...
---