---
Tea Advent Calendar 2018
Christmas is coming! Try a different tea every day throughout Advent 24 teas and infusions to try and tempt Can be stood up or hung on a wall
Tea Hamper for the Chocolate Lover
Three Ronnefeldt chocolate flavoured loose leaf teas, with a tea ball, all beautifully presented in a wicker hamper. A chocolate gift without having to worry about calories. Click here to see all our tea hampers .
---
Yokohama Tea caddy
250g
We love finding unique pieces that will bring a touch of character to your home, just like this subtle, stylish canister! Square Caddy with a hinged lid, hermetic seal and clip down mechanism. Dimensions 16.3cm (h) x 9.5cm (w) x 9.5cm (d)
---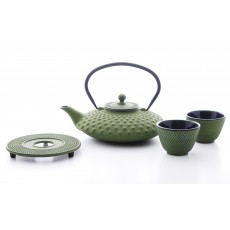 Xilin Green Tea Set 0.8L
Beautiful cast iron set which includes a teapot, trivet and two cups Cast Iron Enamelled inside Removable Stainless Steel Filter in the teapot
---
Japan Teaeve, Tin and Fancy Sencha Tea
A three piece set which consists of a double walled, 0.35l capacity tall mug for loose leaf tea, matching tin caddy and 100g of Ronnefeldt Fancy Sencha Organic loose leaf tea, a delicate leafed green tea.
Tea Tasting Gift Voucher
Enjoy a fascinating afternoon learning about tea and tasting a selection of the finest infusions from around the world Taking place at the Cup of Tea offices in the heart of the Somerset countryside our workshops are designed to be involving, informative and fun! If you're unsure of when you can attend or buying as a gift. You can purchase a Tea Tasting Voucher which can then be used to book on one of our Tasting workshops. Alternatively you can order a gift voucher which can be redeemed for either a tasting session or any tea related gift on our site. Cancellations We understand that sometimes plans can change. Places on our tea tastings are frequently sold out so if you would like to change or cancel your booking we require two weeks notice in order for us to have the opportunity offer your place(s) to other customers. We regret we cannot provide a booking change or refund if we have less than two weeks notice. Each Voucher will have a 1 year expiry date
We have a selection of some really lovely Christmas gifts!
Tea Advent Calendar - Try a different tea every day throughout advent! 24 loose leaf tea samples to enjoy.
Tea Hamper Seasonal Red - Beautiful hamper with three packs of loose leaf tea; 100g Ronnefeldt Baked Apple, 100g Ronnefeldt Vanilla Apple and 100g Ronnefeldt Festive Delight.
Tea Hamper for the Chocolate Lover - A special gift, perfect as a healthy alternative to chocolate! 100g Ronnefeldt Chocolate Chai, 100g Ronnefeldt Irish Malt and 100g Ronnefeldt Rooibos Hot Chocolate.
High Tea Earl Grey Gift Set - An exquisite tea gift set. Zero Bluberry Teapot 0.45L, High Tea Co Earl Grey loose leaf tea, Paradox Tea Timer, blue.
Yokohama Square Caddies 250g - Sold singly or as a set of three. Vibrant glossy caddies for storing your loose leaf tea.
Xilin Green Tea Set 0.8L - Cast iron set including a teapot, two cups and trivet. Xilin Green Teapot 0.8L, Xilin Green Cups, Xilin Green Trivet.
Verona 0.5l Teapot and Cup Set - Glass teapot and a pair of double walled tea glasses. Verona Teapot 0.5L, Double walled tea glasses 0.32L.
Ishi Jpaanese Paper Wrapped Tins - Attractive Japanese paper wrapped caddies for storing looose leaf tea.
Japan Teaeve, Tin and Fancy Sencha loose leaf tea - Three piece set including; Japan Teaeve mug, Japan Square Caddy 100g and 100g Fancy Sencha loose leaf tea.
Ronnefeldt Tea Tasting Selection Seasonal Teas - Selection box of 10 seasonal teas to try. Each tea will make 2-3 cups of tea.
Top 6 Teavelopes in a wooden display window box - Our favourite 6 Ronnefeldt tea bags in a wooden box. 10 teabags for each flavour.
Tea Tasting Gift Voucher - Enjoy a fascinating afternoon learning about tea and tasting a selection of the finest infusions!