---
Rooibos Tea Gift Set
Give the gift of tea! A delicious rooibos tea, stylish tea caddy and handy tea tongs
Rooibos Tea Hamper
Three Ronnefeldt loose leaf seasonal teas, with a tea ball, all beautifully presented in a small wicker hamper. Give your body a boost with this naturally caffeine-free full bodied Rooibos - full of healthy goodness.
---
Rooibos Plum Cinnamon
Mellow Rooibos meets fruity plum and spicy cinnamon to create a well made match. Caffeine-free. Sold in 100g bag
Rooibos Chai
Indian spices and Rooibos combine to make a delicious Chai tea. Caffeine free Sold in 100g bag
The Unique Qualities of Rooibos Tea
Originating from South Africa, more specifically the Western Cape province, rooibos tea has been known and loved by the country for decades. It is now becoming more recognized in other continents too, steadily gaining in popularity. Rooibos is seen as part of the herbal tea family. It is produced from the plant Aspalathus Linearis, native to South Africa. Despite the shrub-like bush being green, in Afrikaans rooibos translates to 'red bush'. This is thanks to the processing of the tea, which turns the leaves into a rich red/brown colour that we associate with rooibos. Rooibos is almost similar in flavour to mild black tea, with deliciously earthy yet refreshing underlined notes. Being naturally caffeine-free and full of healthy trace elements, including Vitamin C it is meant to give your body a feeling of wellbeing.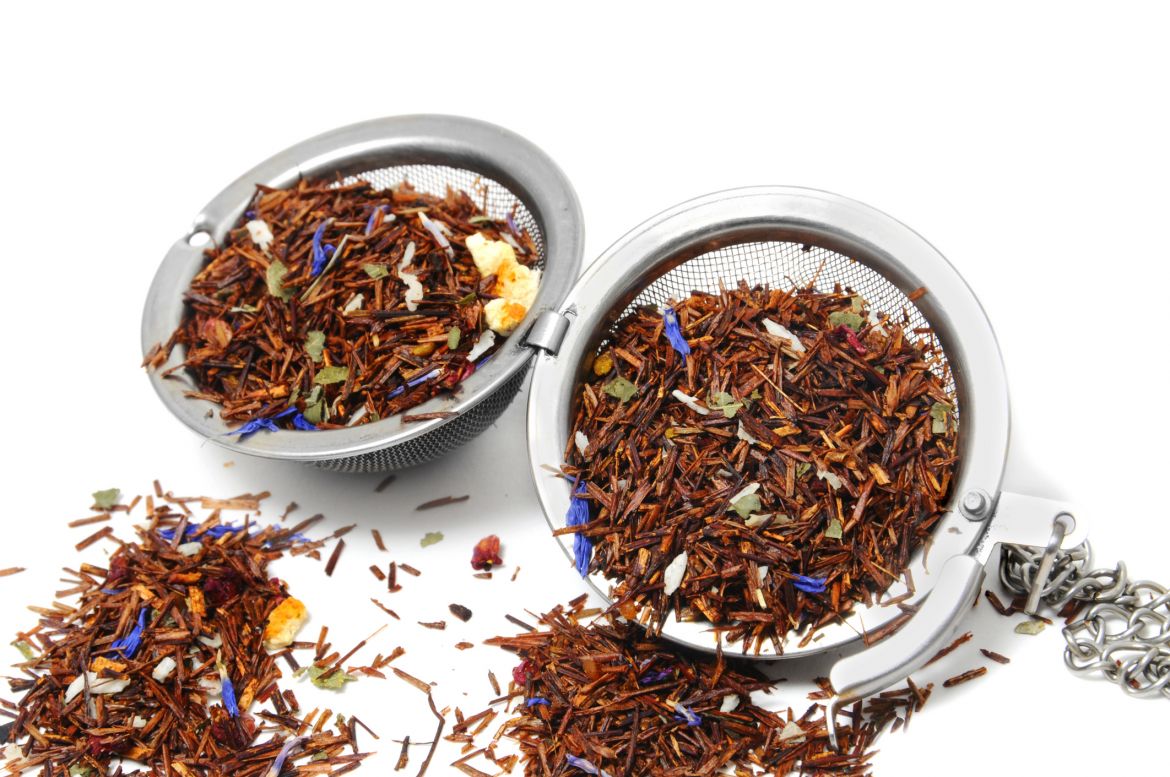 Harvesting and Production
The production process of Rooibos tea is separated into three important stages:
Cutting
Fermentation
Drying
How well each stage is carried out can affect the quality of the tea, so it is essential it is done to a high standard. The harvesting of the rooibos bush is carried out in summer, after the small but beautiful yellow flowers appear on the plant. The leaves and stems, all above ground, are reaped with sickles and then taken to a processing area to be cut with a roller. Once complete, rooibos leaves are left to ferment outdoors for around 12 hours all the while being regularly dampened. It is during this process that the rooibos will attain its renowned scent. Due to the intense heat of the country, the rooibos oxides outside in the warm, African sun. The result is the well-known red coloured leaves and refreshing flavor of rooibos tea.
History Of Rooibos Tea
The history of Rooibos tea is rooted in the Ceder Mountain area of the western cape province in the beautiful & vast country of South Africa. The indigenous bushmen, known as the Khoisan's, harvested the leaves from the Aspalathus Linearis plant for Centuries. Loved for the distinctive and delicious taste, the bushmen also used the leaves for many ailments and as herbal remedies.
Rooibos tea was nearly lost when the Khoisan's tribes began to dwindle, only saved by a Botanist called Carl Humberg. He rediscovered the tea leaves and revived the interest in the relatively unknown drink.
The demand for Rooibos tea exploded in the 1960s when Annique Theron, a South African Mother, published a book on the health benefits of Rooibos tea. Many studies were conducted afterwards that established much more evidence of the health advantages of the tea and popularity soared.
Rooibos Tea and Health Benefits
May provide protection from flu, colds & viruses: Rooibos tea is rich in antioxidants, specifically polyphenols. These provide an added boost to the immune system, helping to protect against the common cold.
May act as an anti-infammatory: The polyphenol antioxidants in rooibos also have anti-inflammatory properties which can assist in preventing heart related illnesses but could also help ease more simple ailments suhc as headaches.
Could relieve stomach issues: Rooibos contains antispasmodic agents that activate potassium ions in the body. These help to relieve stomach cramps and aid digestion. Rooibos has also been used as a natural remedy for irritable bowel syndrome.
How to Brew Rooibos Tea
Brewing Rooibos in its natural form creates a delicious cup. However, some may decide to serve the tea with milk, sugar and even honey to add some sweetness.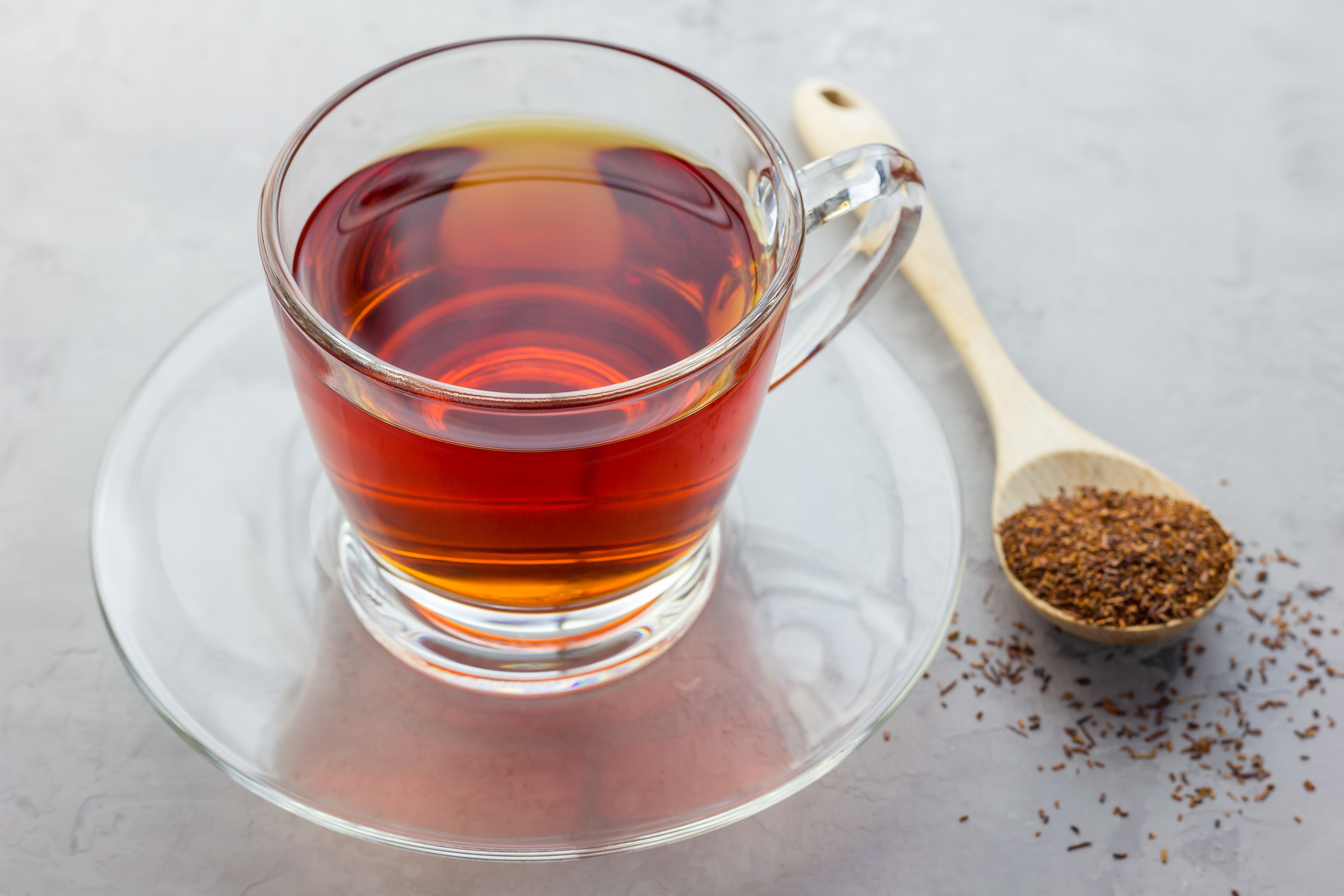 The standard process is as follows:
Boil some fresh cold water
Place the Rooibos in a tea strainer or filter basket
Pour the boiling hot water
Infuse the tea for the appropriate amount of time
Strain the tea
Sweeten the tea to taste
Sit back, relax and enjoy!
Brewing Table

Ranging from 1 slightly heaped teaspoon to 1 heaped teaspoon of rooibos per cup

5-8 minutes

Colours range from red, red/brown to brown
NOTE: Please make read the individual brewing instructions on each package of tea.
Naturally caffeine-free and full of goodness, Rooibos tea can be drunk any time, day or night. A delicious tea with a mild smoky taste.
Our Rooibos Tea Favourites are:

Ronnefeldt Rooibos Bourbon Vanilla

– The aromatic, traditional beverage from the South African red bush, gently scented with delicate bourbon vanilla.

Ronnefeldt Rooibos Cream Orange

– Full bodied South African Rooibos is combined with creamy and delicate vanilla and the peel of ripe oranges to create this relaxing herbal infusion. A sumptuous addition to our range and certainly one of our bestelling infusions.

Ronnefeldt Rooibos Hot Chocolate

- A sumptuous treat without the calories! Fine rooibos blended with cream and hints of cocoa- delicious!
If you cant decide, why not try our Rooibos Tea Hamper. Three of the best Ronnefeldt Rooibos Teas, with a tea ball, all beautifully presented in a wicker hamper.