---
---
Ronnefeldt Best Balance
A smooth flavoured Rooibos with honey and delicately flavoured with anise, fennel and chamomile. Sold in 100g bags.
Ronnefeldt Feel Relaxed
A calming and delicious flavoured herbal infusion. It has the subtle taste of oranges and cream. Sold in 100g bags.
---
Ronnefeldt Feel Fit
Give yourself a boost with our lively fruit and herbal blend with apple-citrus flavours. It is naturally caffeine free with green apple notes and juicy lemon aroma. Sold in 100g bags.
Ronnefeldt Sleep Well
Flavoured Herbal Tea with Caramel Flavours. A infusion that makes you relaxed and sleepy. Naturally caffeine free. Sold in 100g bags.
---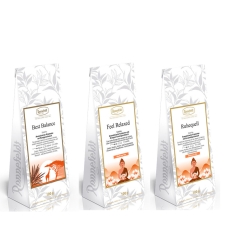 Ronnefeldt Top Three Wellness Teas
A set of three of our popular wellness teas. This comprises of - Best balance - Feel relaxed -Good vitality Save 5% when buying these three teas together in this set.
---
Wellness Tea Collection
A complete set of five popular Ronnefeldt wellness teas. Save 5% on the individual bag price when buying this set.
Wellness Tea Hamper
Three Ronnefeldt wellness infsuions, with a tea ball, all beautifully presented in a wicker hamper. Click here to see all our tea hampers .
---