Personal Tea Filter Bags
Personal Tea Filter Bags
Create your own tea bags for loose leaf tea
Simply fill with the tea of your choice, fold the bag then use it like a normal tea bag
1 pack contains 64 tea bags
Call to order
Call us now for the best price on +44 (0)1761 239 162.
Home Delivery
UK delivery from FREE
Loyalty Scheme
Earn up to 65 Tea Leaf points with this product.
Item: 94504

8 reviews
A great way to create your own tea bags for loose tea. These teabags are made from very fine, almost transparent PP material.
Each teabag has a string and tag
The teabags are large enough to make tea in a mug or teapot
Sold in a sealed polypropylene pack
"Brilliant investment, I bought two boxes - one for the house and one for work.They are so useful, and it means I can use my thermal mug in work without needing a separate infuser. "

Cup Of Tea response...
"Thank you Karen for your amazing feedback."
"A brilliant product !!!. I have tried these for use in my motorhome, and just spending a few minutes putting the required amount of loose tea in makes things a lot easier for use. At home I use a strainer, but for my motorhome, brilliant !!"

Cup Of Tea response...
"Thank you for such a great review!"
"These bags are so much better than infusers,there are no loose tea leaves floating in the pot or cup."

"Oh what a find. These are FABULOUS. I got fed up with tea leaves getting into my cups through the normal tea strainers. These you don't get any. So easy to use. You can make your teas to whatever strength you like and if you feel adventurous you can mix your own tea leaves without any mess. On that subject need to order some more for myself and friends."

"Great for making my Ronnefeldt Rooibos Cream Orange in my new tea pot!!"

"These are a brilliant idea i can now make "real tea" at work."

"These teabags can make a 15 bag pack of A N Other brand of temple teabags go three times as far! Excellent value and easy to use. "

"very content to have discovered these! very useful and easy to use!"

People who bought this also bought...
---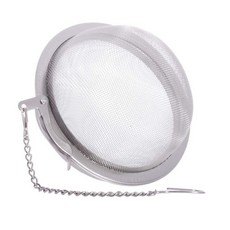 ---