China Golden Yunnan Dongzhai Organic
China Golden Yunnan Dongzhai Organic
An exquisite mellow, earthy black tea with a sweet note to finish
Sold in 100g bag
Call to order
Call us now for the best price on +44 (0)1761 239 162.
Home Delivery
UK delivery from FREE
Loyalty Scheme
Earn up to 90 Tea Leaf points with this product.
Item: 910100

3 reviews
A first-grade black tea from the Dongzhai tea gardens of Yunnan, China. During harvest only a single bud with the first fresh leaf is plucked from the tea plant to create this impressive black tea.
This particular tea can be brewed more than once, the first brew yields soft, full-bodied nuances and notes of mild forest honey. Brew the leaves for a second time and you'll enjoy a mild, balanced chocolatey sweetness.
Certified Organic

one slightly heaped teaspoon

2-3 minutes

Amber
Tea Garden
Dongzhai tea garden situated in Yunnan, one of the most traditional tea growing areas of China.
Set amid the Wuliang mountians at an altitude of around 1500m.
FabrizioPederzoli
said...
"Excellent delicate tea with a earthy taste."

"I wrote the last review on the basis of testing a fresh sample. What I have found is that this tea needs some time in a caddy. After a few weeks the magnificant flacvour is back."

"I bought this tea a year ago and the flavour was magnificent, powerful and nutty. The present batch is very week and feeble, need substantially more tea to get any flavour. Has the good tea gone into the High Tippy Yunnan Tea?"

People who bought this also bought...
---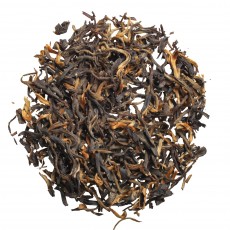 ---