Chai Tea & Mug Gift Set
Chai Tea & Mug
Gift Set

A stylish porcelain mug with tea filter and a delicious chai tea
The perfect way to make and enjoy a nice cup of loose leaf tea.
Home Delivery
UK delivery from FREE
Loyalty Scheme
Earn up to 130 Tea Leaf points with this product.
Item: Chai&MGiftSet


Write the first review
The Chai Tea and Mug Gift Set consists of:
Zaara Herb Mug 0.35L Matt Grey - Porcelian tea mug with a metal tea strainer and lid. A perfect mug for your favourite tea or infusion. Dishwasher safe.
100g Masala Chai - Black Assam tea combines with chai spices. Bursting with flavour! If you like you can enjoy this with milk and sugar.

one heaped teaspoon

Orange - brown
+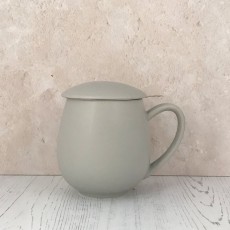 People who bought this also bought...
---