---
Ronnefeldt Joy of Tea Organic Wellness
New Ronnefeldt Joy of Tea Organic Wellness Tea bags - Herbal infusion. Perfect balance of Rooibos with mint and aniseed. The large teabag provides all the space the blend needs to release the full flavour Each teabag has an innovative clip to hold it in place on your cup or mug whilst brewing. You can also read the brewing time and information about the infusion This is the same tea and similar teabag format to Ronnefeldt LeafCup Wellness
---
Ronnefeldt Best Balance
A smooth flavoured Rooibos with honey and delicately flavoured with anise, fennel and chamomile. Sold in 100g bags.
Ronnefeldt Feel Relaxed
A calming and delicious flavoured herbal infusion. It has the subtle taste of oranges and cream. Sold in 100g bags.
---
Ronnefeldt Feel Fit
Give yourself a boost with our lively fruit and herbal blend with apple-citrus flavours. It is naturally caffeine free with green apple notes and juicy lemon aroma. Sold in 100g bags.
Ronnefeldt Sleep Well
Flavoured Herbal Tea with Caramel Flavours. A infusion that makes you relaxed and sleepy. Naturally caffeine free. Sold in 100g bags.
---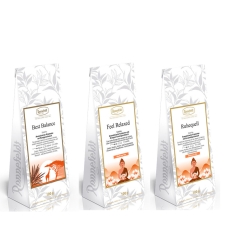 Ronnefeldt Top Three Wellness Teas
A set of three of our popular wellness teas. This comprises of - Best balance - Feel relaxed -Good vitality Save 5% when buying these three teas together in this set.
---
Wellness Tea Collection
A complete set of five popular Ronnefeldt wellness teas. Save 5% on the individual bag price when buying this set.
Wellness Tea Hamper
Three Ronnefeldt Wellness infusions, with a tea ball, all beautifully presented in a wicker hamper. Click here to see all our tea hampers .
---
There are flavours to energise, flavours to soothe and flavours simply to enjoy.
Our wellness teas are blended by experts, using the finest ingredients to create brews that are healthy, tasty and life-giving. They're naturally caffeine-free ( except Sweet Harmony as it contains green tea), and contain an abundance of nutrients to help keep your body in the best possible condition. Even better, they lift up your senses and give you a welcome boost in the midst of every-day life.
If you are unsure of what tea to buy try our new Wellness Tea tasting selection box. It contains ten exquisite varieties of Ronnefeldt teas, each serving is enough for a pot (0.4l).
View the full range by following the links below, to discover a whole new world of tea-drinking enjoyment.