High Tea Green Tea Gift Set
High Tea
Green Tea Gift Set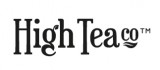 Refreshing and cleansing green tea in a great value gift bundle
125g Green Sencha Loose Leaf Tea
Zero 0.45l Forest Green Teapot
Paradox Green Tea Timer
Home Delivery
UK delivery from £3.95
Loyalty Scheme
Earn up to 240 Tea Leaf points with this product.
Item: HTGreen


Write the first review

In stock
Green tea is always refreshing and cleansing and here you can buy a great gift set with everything you ned to make a percect cup.
High Tea Co Green Tea - 125g of delicious Green Sencha loose leaf tea
Zero Forest Green 0.45L Teapot - A classic round Zero teapot in Forest Green glazed ceramic. The teapot includes a removable stanless steel tea filter and will make around two - three cups of tea.
Paradox Tea Timer - Green Paradox timer so you can brew to perfection
+
+