High Tea Co English Breakfast
High Tea Co English Breakfast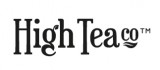 Ceylon and Kenyan all-day black tea blend.
Delicious with or without milk.
Sold in 125g reusable caddy.
Home Delivery
UK delivery from FREE
Loyalty Scheme
Earn up to 45 Tea Leaf points with this product.
Item: 1305HTC


Write the first review

In stock for immediate delivery
The best know tea of all, our fabulous blend of sparkly Ceylon and aromatic Kenyan teas marry perfectly for all day delight.
Whether you like to add milk or prefer the true taste of black tea this cup will not dissapoint

one level teaspoon

3-4 minutes

Golden brown