High Tea Assam Gift Set
High Tea Assam Gift Set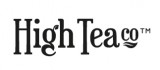 For the discerning tea lover
125g Assam Loose Leaf Tea
Zero 0.45l Burgandy Teapot
Paradox Pink Tea Timer
Home Delivery
UK delivery from £3.95
Loyalty Scheme
Earn up to 240 Tea Leaf points with this product.
Item: HTPink


Write the first review

In stock
All day tea? For first tea of the day to a deliciously refreshing evening drink, Assam makes a lovely cup, with or without milk.
Zero Burgandy 0.45L Teapot - a classic round Zero teapot in burgandy glazed ceramic.The teapot includes a removable stanless steel tea filter and will make around two - three cups of tea.
High Tea Co Assam - 125g of delicious Assam loose leaf tea. A strong black tea for all day.
Paradox Tea Timer Pink - a pink Paradox timer so you can brew to perfection
+
+