---
---
---
---
---
---
Ronnefeldt LeafCup®
Lung Ching Tea Bags
Ronnefeldt LeafCup Green Dragon Chinese green tea LeafCup special teabags with their unique hook concept Soft in taste but with the power to refresh you Please allow 5 - 7 days for orders to be despatched
Ronnefeldt Joy of Tea
Lung Ching Tea Bags
New Ronnefeldt Joy of Tea Earl Green Dragon Lung Ching Tea bags Real leaf tea with an innovative teabag design. The large teabag provides all the space these lovely teas need to unfurl and deliver their flavour Each teabag has an innovative clip to hold it in place on your cup or mug whilst brewing. You can also read the brewing time and information about the tea This is the same tea and similar teabag format to Ronnefeldt LeafCup Darjeeling Green Dragon
---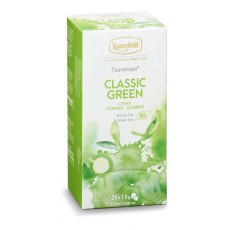 A Guide to Chinese Green Tea
Unlike Japanese green tea , Chinese loose leaf green tea is pan roasted. This gives it a distinctively mild, rich, quality that sets it apart from the grassier Japanese varieties.
The Chinese emperor Shen Nong is thought to have discovered Chinese green tea in around 2700 B.C. Since then, it has evolved to become one of the most popular drinks in China - and the rest of the world.
The uniquely-flavoured Gu Zhang Mao Jian, and the top-quality White Yin Zhen Silver Needle are exquisite varieties of Chinese green tea. We also stock a wonderful range of flavoured Chinese green teas, including the award-winning Jasmine Xian Yu.
---
How is Chinese Green Tea Produced?
There are many types of Green tea and the process varies depending on whichever Green tea you choose. One thing to consider is that Green teas are known as unfermented teas. So, the fermentation process that takes place in most tea production is not present with green tea. The most customary practice includes:
Withering: Once the tea leaves have been harvested they are laid out, traditionally on bamboo trays, and exposed to heat – whether this be natural sunlight or a temperature controlled room. This dries the leaves reducing any leftover moisture.
Heating: To prevent oxidation the withered leaves are then heated, this preserves the freshness of the tea leaves.
Rolling: Once the heating process is complete the tea leaves are rolled into different shapes. As mentioned, traditionally Chinese green tea is pan roasted and then rolled by hand.
Drying: The final process, after being rolled into various shapes the tea leaves are dried.
---
History of Chinese Green Tea
The history of green tea is long and captivating, with the first mention of the brew dating back thousands of years. It is said to begin with the Chinese Emperor of the time who accidentally drank water that had been boiled with a tea leaf within.
Despite being around for so long, Chinese green tea only became widely available to all in China in the 14th century.
It was not until the 16th century that Chinese Green Tea was introduced to the west. This occurred when European traders visited East Aisa, they were mesmerised by the delicious and unique taste of the green tea!
Over the years the popularity of Chinese green tea has soared worldwide!
---
Health Benefits of Chinese Green Tea
Green tea is rich in antioxidants and the claimed health benefits of the tea are well documented!
Could help you lose weight: Many people claim that the antioxidants in Green tea could help speed up your metabolism and encourage your body to burn fat - making it easier for you to lose weight.
Could keep your teeth healthy: The antioxidant catechin is present in green tea. Catechin is important as it has the potential to keep your teeth healthy as the antioxidant is able to kill bacteria in the mouth – preventing fillings & gum disease.
Could reduce risk of cancer: Studies have shown that some green tea drinkers have a lower risk of developing certain cancers.
Could reduce stress: Not only does green tea contain caffeine, which can elevate mood, it also contains L-Theanine – an amino acid that is known to reduce stress.
HOW TO BREW Chinese Green Tea
Whether you want to use the loose leaves or try a tea bag infusion, the standard process is the same.
The standard process is as follows:
Boil some freshly poured cold water
Place the tea leaves in a tea strainer
Pour the hot water over the leaves
Steep the tea for the appropriate amount of time
Strain the tea
Add a dash of milk to taste, sweeten if required
Sit back and enjoy!
Brewing Table

Ranging from 1 rounded teaspoon to 1 heaped teaspoon

2-4 minutes

A range of colours including: Yellow/Green,Bright Yellow, Light Yellow, Pale Yellow, Pale Green, Amber & Chartreuse.
NOTE: Please make sure to read the individual brewing instructions on each pack of tea.
Our top recommendations are:
Doa Ren Feng Superior Organic – An attractive, juicy green leaf - this tea connects the typical tastes of Chinese and Japanese teas.
Ronnefeldt Gunpowder Organic - A smooth green tea with an interesting process -Gunpowder produces a soft honey or coppery brew, with an herby or grassy, smooth light taste.
Ronnefeldt Green Keemun Congou - A rediscovered exclusive rare tea from the south province of Anhui with a beautifully balanced, rounded, aromatic flavour.