---
G-in-T Gin infused with Ronnefeldt Morning Dew
Ziegler Gin infused with Ronnefeldt Morning Dew The perfect combination for a Gin and Tonic or any other interesting cocktail 700ml Bottle, 45% Alcohol by volume 18+ YEARS only, UK delivery only
Yantai Blue Cast Iron Teapot Set
Gorgeous cast iron teapot in deep matt blue with two porcelain cups The cups perfectly match the porcelain lid on the teapot Teapot has removable stainless steel filter
---
---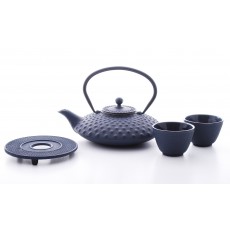 Xilin Blue/Black Tea Set 0.8L
Beautiful cast iron set which includes a teapot, trivet and two cups Cast Iron Enamelled inside Removable Stainless Steel Filter in the teapot
---
Tea Hamper All Day Delight
A selection of three loose leaf teas for you to drink throughout the day with a tea ball, all beautifully presented in a wicker hamper - the perfect special gift. Click here to see all our tea hampers .
---
High Tea Green Tea Gift Set
Refreshing and cleansing green tea in a great value gift bundle 125g Green Sencha Loose Leaf Tea Zero 0.45l Forest Green Teapot Paradox Green Tea Timer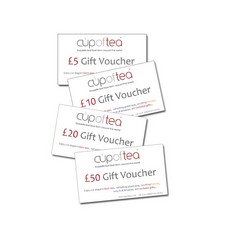 Gift Voucher
If you would like to give a tea related gift but can't quite decide what, why not send a Cup of Tea Gift Certificate and let the recipient choose their own.We have hundreds of teas and accessories to choose from so there is really something for everyone.We can either send the certificate to you or arrange delivery straight to your recipient's destination. It would be a pleasure for us to arrange your...
Treat yourself or someone special to some indulgence this Christmas!
We have worked our magic to bring you the very best gifts under £60.
Tea Hamper Rare Teas - Three special and rare black loose leaf teas; 100g Ronnefeldt Ceylon Inverness, 50g Ronnefeldt Golden Dragon and 100g Ronnefeldt Assam Nahorhabi.
High Tea Green Tea Gift Set - Refreshing and cleansing tea gift set; Zero Forest Green Teapot 0.45L, High Tea Co Green loose leaf tea, Paradox Tea Timer, green.
Xilin Blue/Black Tea Set 0.8L - Beautiful cast iron tea set including a teapot, two cups and a trivet; Xilin Blue/Black Teapot 0.8L, Xilin Blue/Black cups and Xilin Blue/Black Iron Trivet.
Verona 1.0L Teapot and Cup Set - Elegant glass teapot accompanied by two tea glasses; Verona Teapot 1.0L and Double Walled Tea Glasses 0.32L.
Ronnefeldt Winter 7 Tea Selection - A great gift of seven 100g bags of our seasonal teas; 100g Ronnefeldt Coconut Macaroon, 100g Ronnefeldt Winter FairyTale, 100g Ronnefeldt Winter Herbs, 100g Ronnefeldt Mulled Wine, 100g Ronnefeldt Baked Apple, 100g Ronnefeldt Vanilla Apple and 100g Ronnefeldt Festive Delight.
Cozy 0.5L Insualted Teapot - Teapot with a clip-over insulated stainless steel cover. The pot holds arpund 2-3 cups of tea.
Top 12 Teavelope Collection in Wooden Window Display Box - Top 12 Ronnefeldt Teavelope teabags in a delightful wooden compartment gift box. 10 tea bags for each flavour.
Classic 6 Teabag Collection in Wooden Display Box - 6 classic Ronnefledt Teavelope teabag varities in a lovely wooden display box. 10 tea bags for each flavour.
Sayo Round Set of Three Caddies 65G - Jpanese style caddies in a set of three with a sift feel paper warap. They can hold up to 65g of loose leaf tea.
Enisa Tea For One Gift Bundle - An elegant Tea For One gift bundle; Enisa Teapot 0.4L, Ronnefeldt Tea Couture Darjeeling Gold loose leaf tea, Paradox Tea Timer, blue and Ronnefeldt Tea Measuring Spoon, silver.
Zero White Teapot and Cannister Gift Set - Teapot and matching cermaic canister.
Gift Voucher - Whoever you are shopping for and whatever the occassion a gift voucher is a great present!