Rooibos Tea & Mug Gift Set
Rooibos Tea & Mug
Gift Set

A stylish porcelain mug with tea filter and a delicious rooibos cream orange tea
The perfect way to make and enjoy a nice cup of loose leaf tea.
Home Delivery
UK delivery from FREE
Loyalty Scheme
Earn up to 125 Tea Leaf points with this product.
Item: Rooibos&MGiftSet


Write the first review
The Rooibos Tea and Mug Gift Set consists of:
Zaara Herb Mug 0.35L Grey- Porcelian tea mug with a metal tea strainer and lid. A perfect mug for your favourite tea or infusion. Dishwasher safe.
100g Rooibos Cream Orange - Full bodied South African Rooibos combined with creamy and delicate vanilla and the peel of ripe oranges creates this relaxing herbal loose leaf tea infusion. Caffeine free.

one slightly heaped teaspoon

Amber
+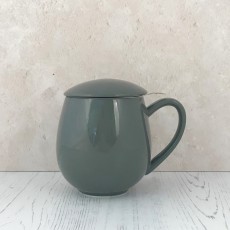 People who bought this also bought...
---