Classic Teabag 6 Collection in metal caddy
Classic Teabag 6 Collection in metal caddy
Classic Teavelope collection tin with 60 teabags
Home Delivery
UK delivery from £3.95
Loyalty Scheme
Earn up to 105 Tea Leaf points with this product.

1 review

Available for immediate dispatch
Our compartmented reusable metal tins filled with a selection of the best traditional Ronnefeldt Teavelope teabags
Classic Six
10 x Darjeeling
10 x Assam
10 x Earl Grey
10 x English Breakfast
10 x Classic Green
10 x Oolong
Matt silver rectangular box. Steel construction with compartments and hinged lid
Approximate dimensions of the tin are 155 ( length) x 135 ( width) x 70 (depth) mm
The dimensions of each compartment are approx. 71(length) x 62 ( width) x 62 (height) mm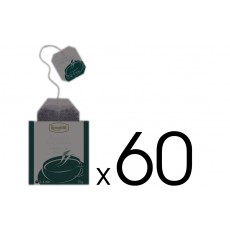 +
"I love this tea tin and the delicious tea within. I live in the U.S. and I was impressed with how quickly my order shipped and arrived. Great service!"

People who bought this also bought...
---