---
---
---
---
---
---
---
---
---
---
---
Tea is very important to us here at Cup of Tea so it seemed only practical to have a whole collection of tea hampers! Our attractive tea hampers are sure to appeal to any tea aficionado.
Choose from the themed hampers we've created, such as the delicious Green Tea Hamper, alongside a range of others. You will also find hampers for the classics like Rooibos Tea.
However, if you're looking for something a little more unique, we also have Wellness and Organic Hampers and many more!
Alternatively, select your own teas and accessories for a tailor-made gift. Simply give us an idea of how much you'd like to spend, or some thoughts about what you'd like to include, and we'll do the rest.
We can also include a personal message and/or a gift card for the recipient if required.
Remember that we make all of our hampers here at Cup of Tea HQ, so most things are possible! If you'd like to discuss the options, please give us a call on +44 (0) 1761 239162 or email us.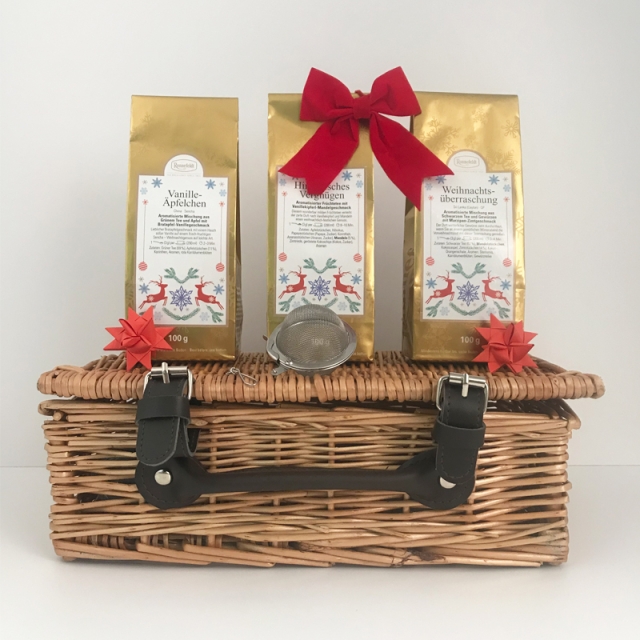 If our themed Tea hampers aren't what you're looking for, Cup of Tea go one step further and is offering Personalised Tea Hampers!
For birthdays, anniversaries, Christmas, weddings or any other special occasion, if you are looking to give a completely unique gift why not consider one of our bespoke Tea Hampers?
Tell us your budget, give us any specific requirements or preferences and we'll suggest the contents to be packed into one of our three sizes of re-usable hampers.
Please contact us or call us on 01761 239 162 to discuss your needs.